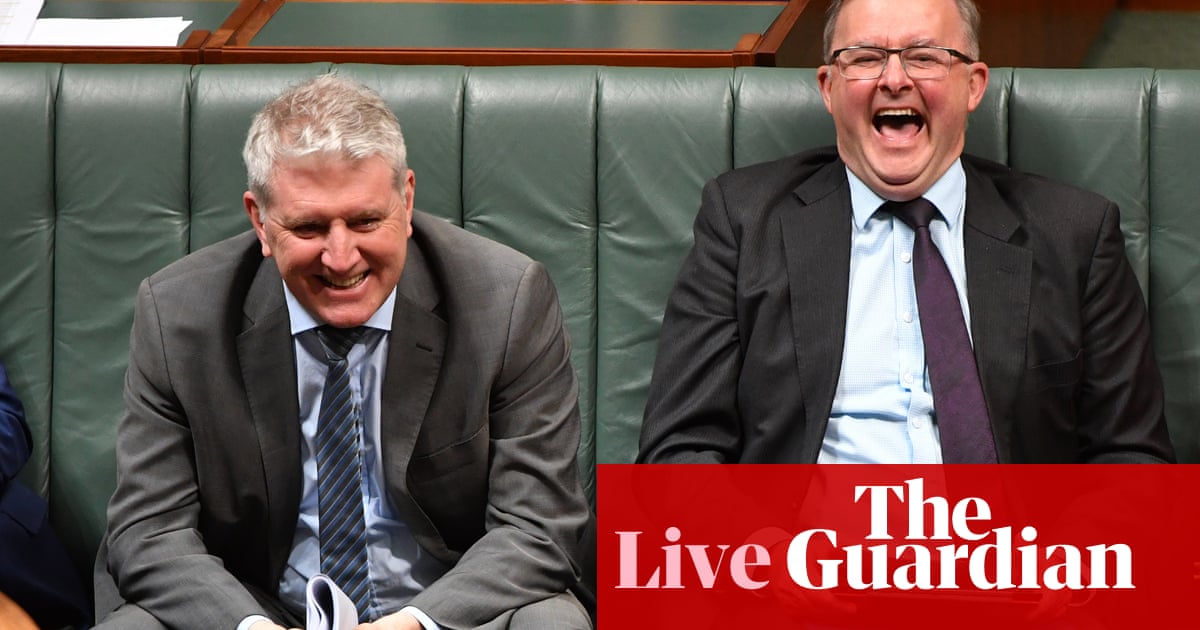 The minister for reducing electricity prices and also big sticks, Angus Taylor is up next with the dixers, which perks Labor up, because there is nothing they seem to like more these days, then referencing big sticks.
Anne Aly to……Josh Frydenberg
I refer to reports that the Treasurer has cancelled his planned trip to meet with his international counterparts at the G20, because of government chaos and division. Now, given the Treasurer's recent success as a cinematographer, has the Treasurer considered sending a video message to the G20 instead?
There is laughter, and Frydenberg looks jovial as he approaches the despatch box (I mean, you have to find the joy where you can, right? And if you can't laugh at your own accidental hostage video homage, what can you laugh at) but Scott Morrison gives him the little shake of the head.
Which means – serious face.
Frydenberg pivots mid answer.
Both the Prime Minister and I are having a session with Mark Humphries shortly.
The reality is the economy is a serious business. The Australian economy and the jobs of more than 100,000 young people who have been in a job, put in a job as a result of a strong economy, that we have helped create is a serious business. The Labor Party left us an economy where there was unemployment that was rising, investment that was in free-fall and debt was rising and as the Deputy Prime Minister reminds this place, confidence was falling. Now, Mr Speaker in contrast, we have delivered what Liberal and National Parties do – more jobs, lower taxes, and unemployment which is now at its lowest level since 20112.
The Prime Minister will represent this country at the G20 meeting, accompanied by the Finance Minister and he will be talking Australia up, unlike the Labor Party, which talks Australia down.
Parliament House is experiencing a few temperature issues at the moment, and half the building is freezing and the other half is hot.
Given that the house of reps is in the half of the building which is distinctly icy these days, it is, entirely possible, that hell has actually frozen over.
Dear Beyonce, I don't know what hell mouth has been opened, but Josh Frydenberg is being forced to answer his third question in a row, and really no one, no one deserves that sort of punishment.
He was just forced to make a Taylor Swift joke.
Oh this is why he's here – Bob Katter has the crossbench question.
And he is taking advantage of every extra second given to the crossbench to ask their questions – it's the Katter rule, because he never managed to get a question in under the 30 seconds. But Katter is yet to give a question he can't pontificate on, so here we are.
Treasurer, biggest farm in Australia, dairies owned by China, second biggest one owned by China, biggest grain farm owned by China, Kidman's, controlled by China, states two and three owned by China, Australia's most strategic port, Darwin, owned by China, tax hire industry, foreign-owned, car manufacturing, glass, texttiles, white goods, all gone overseas. To Australians free trade means jobs exported, cheap labour imported. Treasurer, do we have a new regime that won't continue to sell off Australia or is it business as usual – Australia for sale?
(I've seen this ad. It was awful)
Josh Frydenberg:
Foreign investment, Mr Speaker, is absolutely critical to lifting Australia's living standards, to jobs and to growth in the Australian economy.

And it's about meeting the savings gap that we have in Australia, which is about 3.5% of GDP … Now, we have put in place a number of safeguards around the agriculture space in relation to foreign investment. We're now requiring more transparency and openness around the sales process. When it comes to critical infrastructure we take the advice and the input that comes from not only the foreign investment review board led by David Irvine but from the Critical Infrastructure Committee which involves a number of the leading agencies.

I would say to the member for Kennedy, it's about getting the balance right. And that balance is about foreign investment, which is in Australia's national interests.

It's a very serious topic. It's not a free for all. There's considered opinions and inputs that are taken and whether it comes – whether it's in the agriculture or in critical infrastructure or other aspects of the Australian economy, the Morrison government, the Liberal and National government will always take decisions in the national interest.
Chris Bowen to Josh Frydenberg:
Why has the treasurer cancelled at the last minute his planned trip to meet with his international counterparts at the G20, the leading forum of the world's major economies?
Frydenberg:
"Well, as the member for McMahon would know, it's a leaders' meeting…
Labor loses its mind at this statement.
Ed Husic is living his best life heaping heckles on his mate, ("Josh, you've changed – I never thought you were that modest", but is asked to leave. Frydenberg keeps talking, prompting Tony Smith to say "treasurer, just stop talking for a moment" and Husic leaves, having delivered his gift.
Frydenberg talks more about Australia's economy being the envy of the world, but there is room for only one star here, and for this brief shining moment, it's Husic.
Craig Laundry has the next dixer. And if things weren't despairing enough in that corner of the Liberal party, it's to Michael McCormack.
Labor asks him when he's coming over to the crossbench. He does seem to look over there for a moment.
But then Bob Katter (he made it!) wanders over to talk to Julia Banks, and the moment is lost. The grass, it seems, is not always greener.
Bill Shorten to Scott Morrison:
Can the prime minister confirm that since moving on Malcolm Turnbull, the government has cancelled parliament because they couldn't decide who is the prime minister, lost two government members and its majority, and next year will run a part-time parliament? Has the government given up on even pretending to govern? Why isn't Malcolm Turnbull still the prime minister of Australia?
Morrison:
This goes on for a while, but it ends with this:
This is a government that knows how to keep our economy strong, how to keep Australians safe, Mr Speaker. We are getting on with the job of doing all of those things. This is a leader of the Opposition who thinks all he has to do is to turn up in parliament"
Which is an interesting way to end the 'your face is' point, when you have only scheduled about 10 sitting days before the election next year.
We have got to the bottom of the seating plan confusion.
A seating plan was released yesterday after Julia Banks moved to the crossbench, which showed Julie Bishop to have no seat mate.
But then another one was produced sometime between then and now, which moved Jane Prentice next to her.
Queensland again gets the first dixer (holy moly, anyone would think they need that state). Ross Vasta asks something about can the prime minister explain how this is the best government to ever govern, ever and are there any alternatives.
Bill Shorten to Scott Morrison:
The government has discontinued funding to the Keeping Women Safe in their Homes program, which helps protect women who experienced family violence. This program improves security for women and children, including changing the locks on the front door and sweeping for listening devices in the home. Australian women shouldn't have to choose between staying at home or staying safe. So will the prime minister match Labor's announcement from yesterday and commit $18 million to continued support for this vital program?"
Morrison:
As the leader of the Opposition would know, this is a program that had a set period of funding and we are in the process of working through interest consultation phase of how that funding can be extended and we're working through that in the normal budgetary process. (Kelly O'Dwyer interjects that it is still funded until June).
It is still funded until June, Mr Speaker. We are providing that funding to address the serious issue of preventing domestic violence.
Now, Mr Speaker, preventing domestic violence is a shared commitment of every single person in this place.
Mr Speaker, I must say I'm a little disappointed that the leader of the Opposition would seek to make some political capital of this issue in this place.
Mr Speaker, our national plan to reduce violence against women and children from 2010-22 is a commitment from all governments through COAG. It will again be addressed at the meeting this year.
Since the national plan has been in place the Commonwealth has invested over $700 million to reduce domestic violence.
There's an additional amount for the 1800 RESPECT service. It will increase the amount of people to ensure people can get help.
In 2018 they answered almost 100,000 telephone and online contacts, which was a 54% increase from the previous year.
This year the service is expected to answer more than 160,000 such contacts and through the women's safety package, the Commonwealth gave some states and territories supplementary funding for the Keeping Women Safe in their Homes and local support coordinator's program.
Mr Speaker, we are getting on with the job of delivering these essential services and we should be committed as an entire parliament, together with state and territory, to address the very serious issue of addressing domestic family violence.
We're committed to that. I have no doubt that other members in this place, those who sit opposite, in the crossbench, are also committed. I would ask we continue to address these issues in a bipartisan way and not seek to play politics with it.
Meanwhile, Jane Prentice has been moved to sit next to Julie Bishop in the House.
Bishop seemed a little confused as to what was happening at first, and consulted the new seating plan, (at least that is what it looked like from up here in the press gallery benches) but all is sorted now.
Autralia economy news