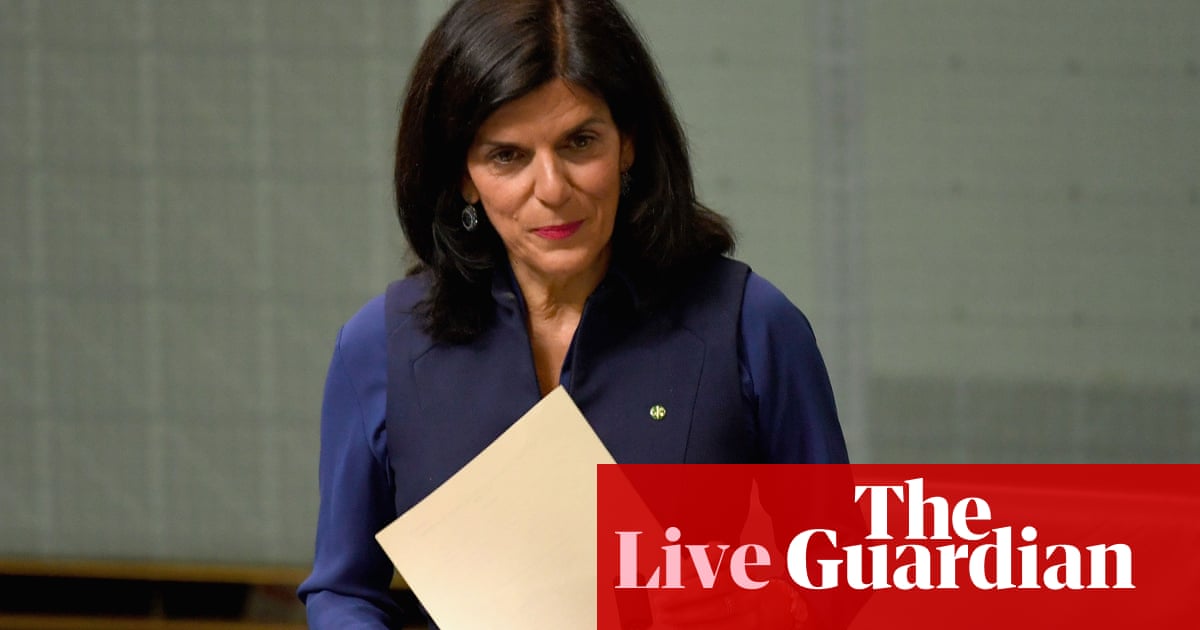 Julia Banks has posted her statement to her website (she has already removed Liberal branding from her website from the looks of things)
Following the leadership coup in August I announced my decision that I will not recontest the seat of Chisholm at the next election as a member of the Liberal Party.

I've always put the People before the Party. After being a Labor held seat for 18 years – the people of Chisholm elected me as I promised them that I would be their representative under the leadership of the former Prime Minister Malcolm Turnbull and former Deputy Leader and Foreign Minister Julie Bishop. Both visionary, inspiring leaders of sensible centrist liberal values with integrity, intellect and with significant support from my local community and across Australia, as leaders of our nation.

The gift of time and reflection has provided some clarity regarding the brutal blow against the leadership. Led by members of the reactionary right wing, the coup was aided by many MPs trading their vote for a leadership change in exchange for their individual promotion, preselection endorsements or silence. Their actions were undeniably for themselves. For their position in the Party. Their power. Their personal ambition. Not for the Australian people who we represent. Not for what people voted for in the 2016 election. Not for stability. And disregarding that teamwork and unity delivers success.

The aftermath of those dark days in August then acutely laid bare the major parties' obstructionist and combative actions and internal games. All for political point scoring rather than for timely, practical sensible decisions on matters which Australians care about.

Equal representation of men and women in this Parliament is an urgent imperative which will create a culture change. There's the blinkered rejection of quotas and support of the 'merit myth' but this is more than a numbers game. Across both major parties the level of regard and respect for women in politics is years behind the business world. There is also a clear need for an independent and whistleblower system as found in many workplaces to enable reporting of misconduct of those in power without fear of reprisal or retribution. Often when good women 'call out' or are subjected to bad behaviour – the reprisals, backlash and commentary portrays them as the bad ones; the liar, the troublemaker, emotionally unstable or weak, or someone who should be silenced. To those who say politics is not for the faint hearted and that women have to 'toughen up' – I say this: the hallmark characteristics of the Australian woman (and I've met thousands of them) be they in my local community, in politics, business, the media and sport – are resilience and a strong authentic independent spirit.

The voice of the Australian people has been loud and clear. Hundreds from my local community as well as hundreds more from across Australia contacted me with their support and (knowing that my life from humble and hardworking migrant heritage has been in the business real world and not as a career politician ) many pleaded that I stay in politics and become an independent representative. My sensible centrist values, belief in economic responsibility and focus on always putting the people first and acting in the nation's interest have not changed. The Liberal Party has changed. Largely due to the actions of the reactionary and regressive right wing who talk to themselves rather than listening to the people.

To continue to put the People before the Party and act in the nation's interest authentically and constructively – effective immediately I will serve as a Member of House of Representatives as an Independent Representative. I intend to give the Government my assurance as to confidence and supply. In the new year, I will make a decision about my future career path. Like the three female Independent Representatives – the new Member for Wentworth, the Member for Mayo and the Member for Indi – sensible centre liberal values are at the core of what I stand for

As a result of this political journey I am grateful to have met so many wonderful people from across the political divide who I know will respect my decision and with whom I hope I will have enduring friendships. I am so proud to serve as a member of the House of Representatives with honour and respect because of the good People it represents. The People that the major parties have stopped listening to. The Australian People."
In her speech, Julia Banks said she saw people trade their vote for advancement, during the leadership spill.
I am working on getting you the entire speech.
Just to recap the last five minutes:
Scott Morrison all but announced the election would be in May, shifting the budget to 2 April.
Julia Banks has quit the government and moved to the crossbench.
The news broke as Morrison was doing his budget announcement – he motored out of there very, very quickly as journalists began shouting questions about Banks.
But the government has lost another guaranteed vote for things like suspending standing orders, referrals and legislation.
You can bet your bottom dollar that Peter Dutton's high court referral (and Chris Crewther) will be back on the agenda tomorrow.
Liberal MP Julia Banks is giving a personal statement in the House of Representatives, stating she will move to the crossbench and become an independent.
She said she will continue to give Scott Morrison's government confidence and supply and make a decision in the new year about whether to recontest her seat.
Banks noted that many constituents urged her to stay in politics after she announced she would not recontest the next election for the Liberals.
Banks says her personal commitment to liberal values has not changed, "the Liberal party has changed".
She blames the "reactionary right wing" who she said talk to and about themselves rather than the Australian people.
Julia Banks is emotional as she delivers this speech.
Her defection takes the government's numbers even further into minority. They hold 74 seats (I am still counting Kevin Hogan).
"Effective immediately I will be serving as an independent," Banks says.
She says she will give the government confidence and supply
We have just gone over to the House in time to see Julia Banks make a statement on indulgence – where she is announcing she is defecting to the crossbench
Bevan Shields (@BevanShields)

BREAKING EXCLUSIVE by @CroweDM: Liberal MP Julia Banks is defecting to the crossbench in a major body blow to the Coalition government's grip on power. #auspolhttps://t.co/WPqBCr7VlN
And here is your election platform:
What I said was we had been investing in infrastructure. We'd been investing in services.

We'd be ensuring we main tape our trajectory back to a surplus and that has always been a focus of our fiscal strategy in the last five years.

We're achieving it. These improvements in our budget have not happened by accident, the decisions we've taken on spending where our spending growth has been at the lowest level of any government in 50 years.

We've exercised spending restraint. We've also emphasised restraint when it comes to taxes. Labor has released the brakes on taxes. So the next election is a choice between a stronger economy to pay for hospitals and services and education and schools and border protection and defence that Australia needs."
For those looking at what Myefo will be saying, Paul Karp gave us a hint earlier this week:
A surge in company tax is expected to push budget revenue $9.2bn higher in 2018-19 than expected in the May budget, according to Deloitte Access Economics' latest forecast.

The positive news sets the Morrison government up for a quicker return to surplus or gives latitude for pre-election sweeteners such as bringing forward personal income tax cuts as it prepares the midyear economic fiscal outlook, which is due in December.

In the latest edition of its budget monitor, Deloitte estimates company tax will raise almost $100bn this year, up $8.4bn on the 2018 budget forecast. The superannuation tax take is also up $1bn on forecasts.

…As a result, Deloitte estimates the underlying cash deficit will be $4.9bn in 2018-19, the smallest deficit since the global financial crisis, followed by a small surplus of $4.2bn in 2019-20.
Asked straight out when the election will be, Scott Morrison says "I'll let you do the maths."
" … It is absolutely our intention to deliver the budget before the election, and to deliver a surplus budget."
The midyear economic and fiscal outlook will be delivered on 17 December. Right in the middle of Labor's federal conference.
So we are looking at a 11 or 18 May election date.
So a federal budget on 2 April, clears the way for a May election.
Murph, as always, was right.
Here is our Scott Morrison announces his budget:
Unemployment remains at 5%, the strongest growth in youth jobs in Australia's economic recorded history. Jobs growth of over a million since we first came to government ahead of time of what we promised and, importantly, bringing the budget back into balance.

When we were elected in 2013, we said we would get rid of the carbon tax and we did.

We said we would stop the boats and we did. And we said we would bring the budget back into balance and we are.

And what I'm here today to announce is that before we go to the next election, we will be handing down a budget and it will be a surplus budget.

It will be a budget which is the product of the years of hard work of our government, of successive fresh and prime ministers, that has ensured there we have stayed on track to deliver a balanced budget, a surplus budget which is what we promised the Australian people we would do."
Here we are – Katharine Murphy to the rescue
Katharine Murphy (@murpharoo)

We are about to get the dates for MYEFO and the budget @AmyRemeikis #auspol
Scott Morrison has begun his press conference by talking about what he says is his government's successes.
He mentions infrastructure, support for small- and medium-sized businesses, cutting red tape, support for veterans and working with "our Pacific family".
We still don't know what the press conference is about.
Scott Morrison has announced he will be holding a press conference with Josh Frydenberg at 11.45am.
It's in the prime minister's courtyard, which is, as we know, the fanciest of press conference locations.
Autralia economy news